---
Il fait bon vivre à Paris. For our latest Aje Insider, home is where the heart is. With an Art History degree under her belt and the most discerning of eyes, a love of 70s architecture and men's tailoring, meet Paris based Digital Content Creator, Sarah Nait.
DESCRIBE YOUR JOURNEY TO WHERE YOU ARE TODAY
It all started with a blog in high school. My aim was to improve my writing and share my love for fashion, art and culture in general. I kept it during my History of Art degree but with the rise of Instagram I wanted to challenge my creativity and focus on fashion images. Instagram was a real stepping stone for me and gave me a whole career, I am now working full time as a digital content creator.
WHEN DID YOU REALISE A CREATIVE CAREER WOULD BE YOUR PATH

I guess I always secretly wanted to pursue a creative path but getting a more traditional job is always a safest option. I realised that I could make a career out of it when brands started to contact me through Instagram. Brands noticing my work and offering me business proposals convinced me to forget everything else and focus on a creative career.
WHAT DOES A TYPICAL DAY IN THE LIFE OF A CONTENT CREATOR LOOK LIKE
There's actually two kinds of days. Business-oriented days– emails, meetings, and paperwork– and more creative days– shootings, styling, and research.
DESCRIBE YOUR CREATIVE PROCESS AND WHAT INSPIRES YOU
I always think of the image I want to portray before building an outfit. The styling then comes naturally I just stick to my signature styles. I get a lot of my inspiration from men's tailoring.
TELL US ABOUT YOUR LOVE FOR ART AND HOW IT MANIFESTS IN YOUR WORK AND PERSONAL STYLE
Abstract art and 60's / 70's interior design and architecture always fascinated me, in my opinion those years were the apogee of creation. It was all about quality, proportions and subtlety and that's exactly what I try to achieve with my personal style.
YOUR FAVOURITE ARTIST / ARTWORK
Francis bacon, I find his paintings both beautiful and striking. His work is very deep and complex also very melancholic but you can't keep your eyes off it.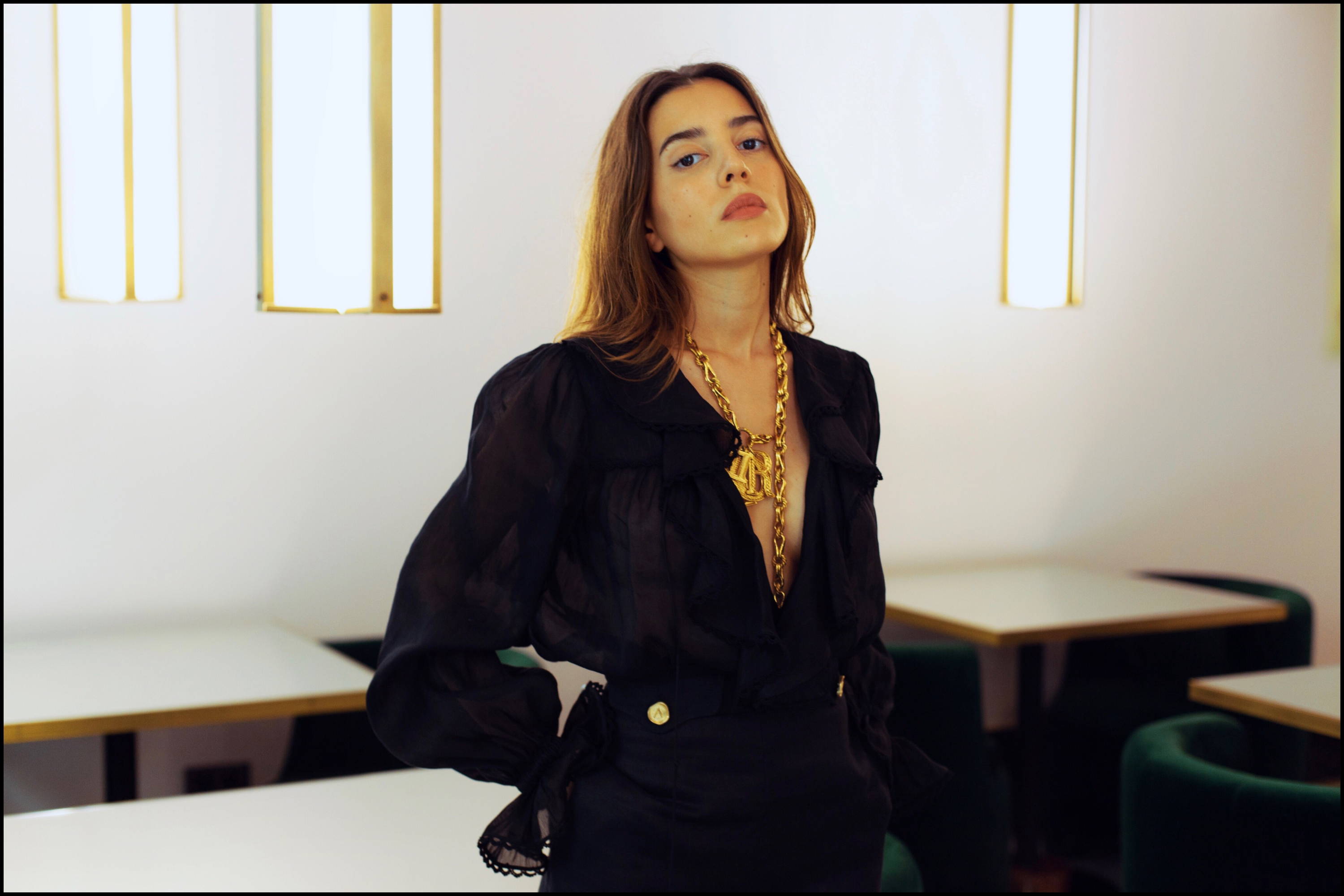 The Anais Ruffle Blouse (arrives September 18th)
YOUR FAVOURITE PIECES ON HIGHEST ROTATION IN YOUR WARDROBE
2 silks shirts by Haider Ackermann, 2 blazers by Pallas Paris and a pair of Alaïa ankle boots.
WHAT IS THE MOST TREASURED PIECE IN YOUR WARDROBE
A Tom ford plum cocktail dress
HOW WOULD YOU DESCRIBE YOUR AESTHETIC AND STYLE
I would describe them as 70's inspired, androgynous and I like to think timeless or at least it is what I am trying to achieve with my style. I like to think that my wardrobe is a work of a lifetime and that I will be able to wear the same pieces for many years.
IF YOU COULD TRAVEL BACK TO ANY ERA OF STYLE WHICH WOULD YOU CHOOSE
Early 20th century Vienna for its vibrant artistic and cultural scene. It must've been incredible to be surrounded by such beauty and creative energy.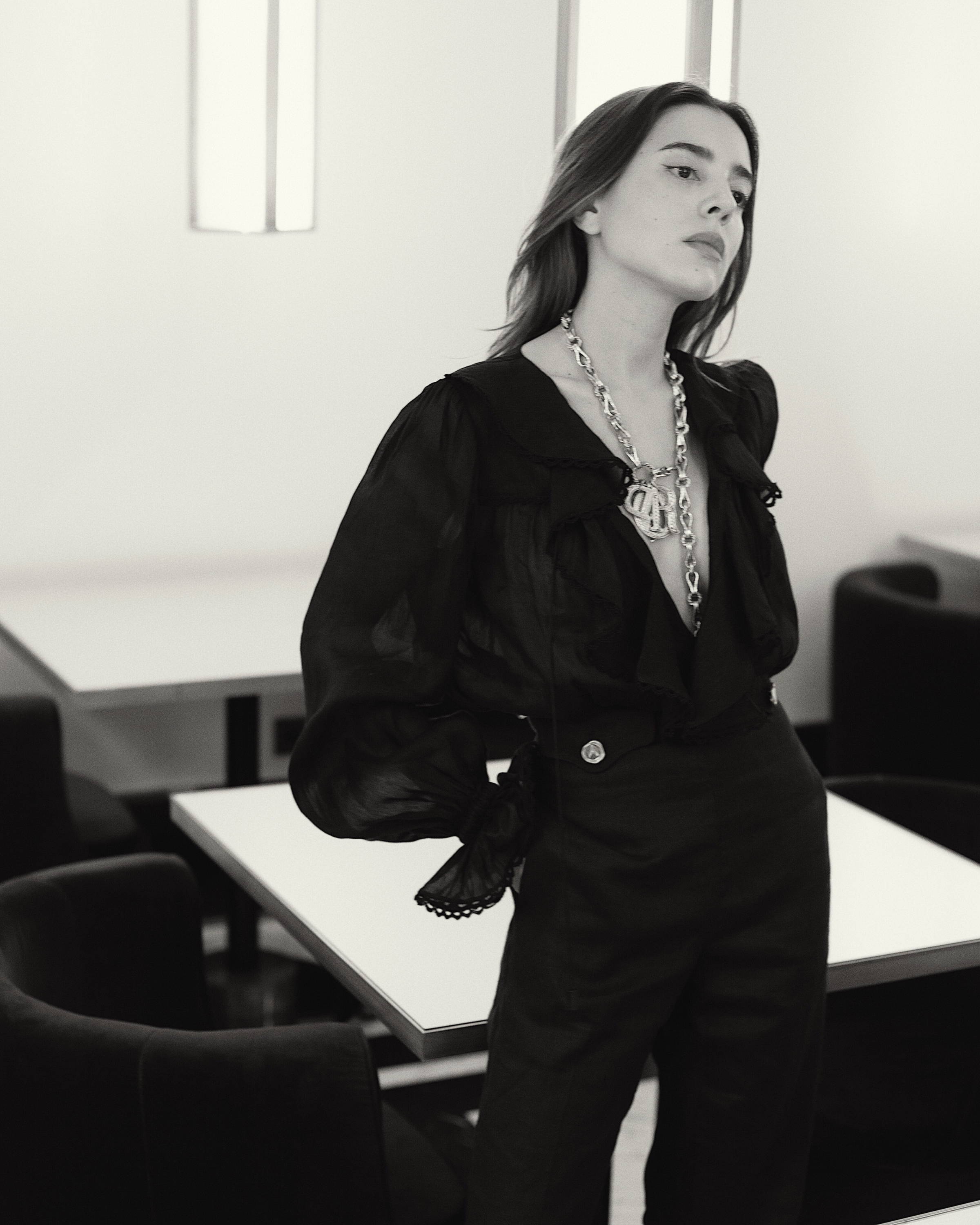 BEST PART ABOUT YOUR HOMETOWN OF PARIS
Probably the way of life in Paris you are able to build a career without scarifying your personal life. Not to mention the architecture, rich culture and our amazing gastronomy. As we say in French 'Il fait bon vivre à Paris'
BEST KEPT SECRETS / FAVOURITE ADDRESSES IN PARIS
Nissim de Camondo museum The Albert Kahn Museum
Le Relais du Plaza
Paul Bert antique Market
Le Corbusier Atelier The Sorbonne Library
MOST FRENCH THING ABOUT YOU
My love for cheese and charcuterie.
WHICH SHOWS ARE YOU MOST EXCITED ABOUT AT PFW THIS SEASON
My favorite designer is Haider Ackermann so I am always looking forward to discover his new collections. I am also curious to see where's Hedi Slimane is taking Celine this season I hope we will get another 'Bourgeoisie' inspired collection.
THREE THINGS YOU NEVER LEAVE HOME WITHOUT
Sadly my phone, a lip balm and my cardholder.
WHAT DOES YOUR STAR SIGN TELL US ABOUT YOU
I am a Capricorn so I am very shy person, I have been working on it growing up but now that I am a bit older I just embrace it. I am also very determined when I have something in mind I cannot release myself from it
WHAT ARE YOU CURRENTLY READING, WATCHING AND LISTENING TO
I am currently reading The Unbearable Lightness of Being by Kundera, I am watching Mindhunter on Netflix and I am listening to my favourite album from this year which is called UMLA by French rapper Alpha Wann.
WHAT CAN WE EXPECT TO SEE FROM YOU NEXT / ANY EXCITING PROJECTS YOU CAN SHARE WITH US
A lot of fashion collaborations with brands I truly like and believe in such as Aje and hopefully building my own brand in the near future.
---