A look through the lens. She's fascinated by the finer detail, with nothing getting past her eye. Never leaving home without her camera, our latest Aje Insider and documentary fashion photographer, Liz Sunshine, is living her dream on the daily. Treasuring every moment of her journey, we catch up with the street style maven between the madness that is Paris Fashion Week.
---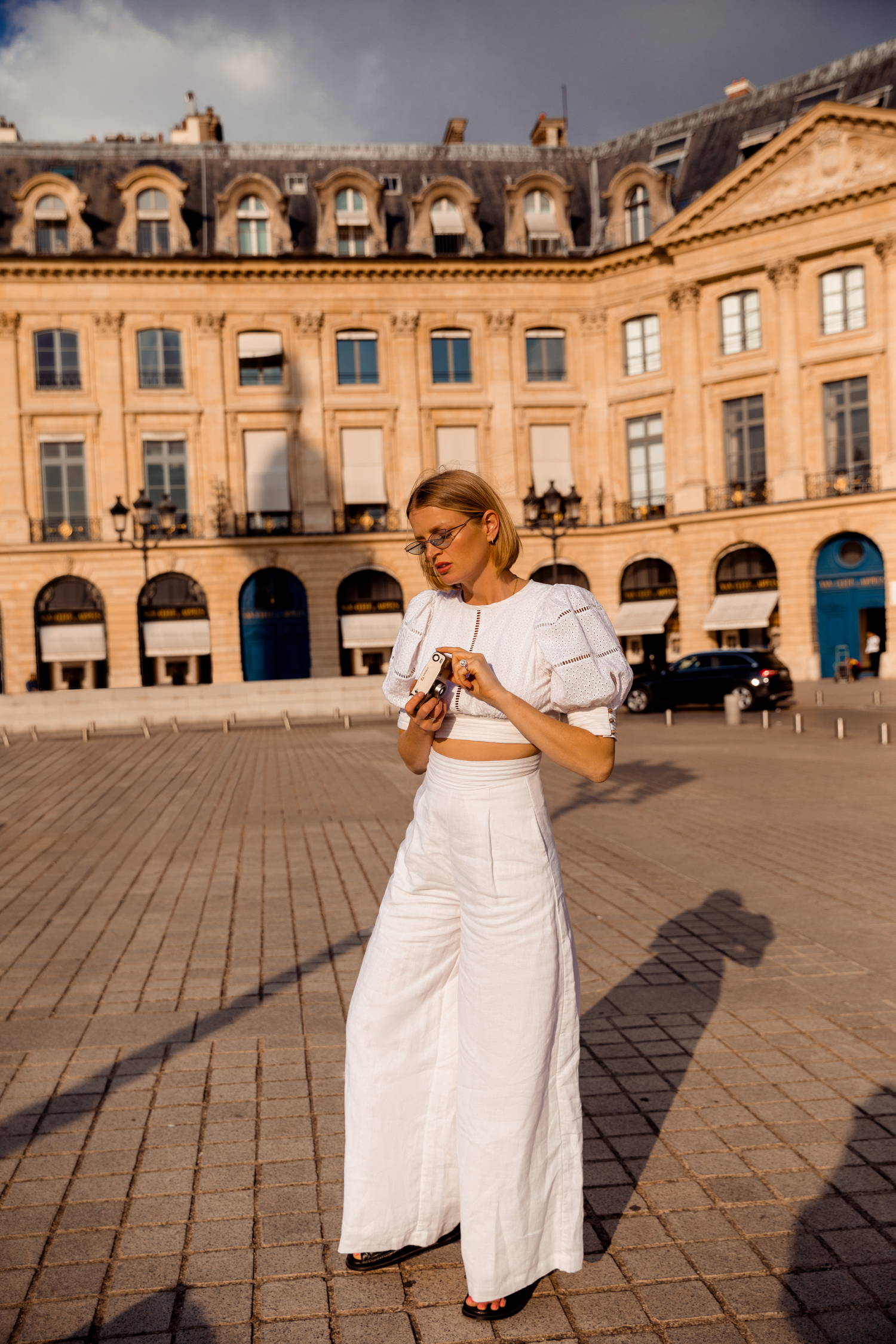 DESCRIBE A DAY IN THE LIFE DURING PFW
A day at Paris Fashion Week starts early, around 6am, finishing off image edits from the day before and making sure all my image deliveries have made it into the correct inbox overnight. I then shower and get ready for the first show, leaving my Airbnb around 8am.
I walk in the direction of the first show, picking up a tea and something to eat on my way. I love walking in Paris, especially early in the morning - the light is still soft and the city quiet. Arriving at my first show I meet the other Australian photographers and a few others people I've met at previous years in Sydney and New York…then the waiting game begins. We're all early, so we wait around 20mins for the mayhem to start. At first it's one person, then all of a sudden everyone arrives at once causing a flurry of shutters and such excitement that we all dash in different directions trying to get 'the' shot.
Each day I make it to at least 4 shows. Walking or ubering between them, choosing the quickest method possible. Getting lunch where we can, sometimes sitting down at a chic Parisian cafe but more often than not grabbing something on the go.
The last show is always after dark, so dinner is somewhere delicious, but late. Steak Frites is always on the menu, accompanied by a glass of red.
Walking into my Airbnb after 10pm, it is then time to upload memory cards, check emails and send images off to clients. On average I shoot around 3,000 images a day during PFW, but am pretty quick at finding what I need. Still in front of my computer at 2am, my eyes starting to close, I always wonder if I am actually productive at this hour, but there is just so much to do I generally keep going until I fall asleep.
At 6 am my alarm goes off and I drag myself out of bed…ready and excited for another day.
BIGGEST difference between the street style in paris compared to melbourne
Parisian and Melbournian style is somewhat comparable. The people going about their everyday lives in Paris are as chic as the Parisians going to the shows, they wear Gucci flats, and Loewe bags, Chloe blazers and beige trench coats…I saw a lot of pants and can confirm their effortless approach to dressing. In Melbourne I think the most stylish people live by the same philosophies, they buy clothes they love and live in them, not saving their designer pieces for a special occasion, but wearing them every day with easy. The most significant difference is, of course, the colour palette. In Paris it was beige and browns, tonal dressing in basics, but not a lot of black, whereas in Melbourne black is our uniform and wearing lighter tones even in summer isn't necessarily widely seen.
best address you came across
I'm not sure if it's a secret, but Pink Mamma was an address that was well worth the drive. A four-floor Italian restaurant, with art layering every inch of the staircase walls, each level a unique visual delight of complimentary hues in pinks and greens, with patterned tile floors, seemingly mismatch chairs and rustic crockery.
I highly recommend you get there as soon as the doors open to ensure you get a table...
DESCRIBE your journey to where you are now
My journey has been an absolute evolution. When I started as a photographer, I could never have dreamed this is where I would end up. I began in e-commerce and quickly evolved into social content creation, which became an obsession with street fashion that saw me spending all my free time standing on street corners searching for 'that moment'. Now many years later, I have worked with all my dream clients and am excited about the next evolution and to see what I'll be doing next.
 
your favourite picture ever taken
Of course, it changes all the time, but right now my favourite images are of two complimentary Celine bags, shot in Paris that now hang side by side in my office.
any pinch me moments
I'm honestly not really good at recognising these. I am so lucky to do what I do every day and treasure everything from the smallest interaction with a stranger who's style I have just discovered, to flying to Paris to shoot PFW.
what do you look for in your subjects
A complete picture. Someone who understands their style and considers their hair and makeup, as much as they do their clothing and footwear choices. It doesn't have to be over the top or designer or fit into a particular genre/trend. It just needs to be complete.
three words that sum up your work
Documentary. Fashion. Photographer.
as a working mum are there any tips you have on juggling the work-life balanace
Someone once told me there is no such thing as balance, sometimes your children need you, sometimes it's your husband, and sometimes it's work. I live by that idea and at different times dedicate my love and attention to various aspects of my life. Having a family and a career is everything, but my husband is really the person who supports me and allows me to do it all.
biggest change you've seen in the industry since you started
Probably the amount of content creation that now exists. In the beginning shooting specifically for social media, was a bit of a new type of photography, it allowed me to specialise and grow my client base quite quickly. Now every other person is a content creator, but I love it…it keeps me on my toes and challenges me to continually assess my work and make sure I am creating work that I love and is relevant to the industry and my followers.
what did you want to be when you were growing up
An artist, but I picked up a camera when I was 16 and realised I was much better at taking photos than I had ever been with a paint brush. I still hope that one day I'll be able to cross over into art based photography, but this will only happen in years to come.
favourite photographer of all time
I honestly don't have one. I'm inspired by different people at different times.
what was your first camera
An SLR, my dad, gave me. I have no idea what the model was, though he might still have it tucked in a drawer somewhere.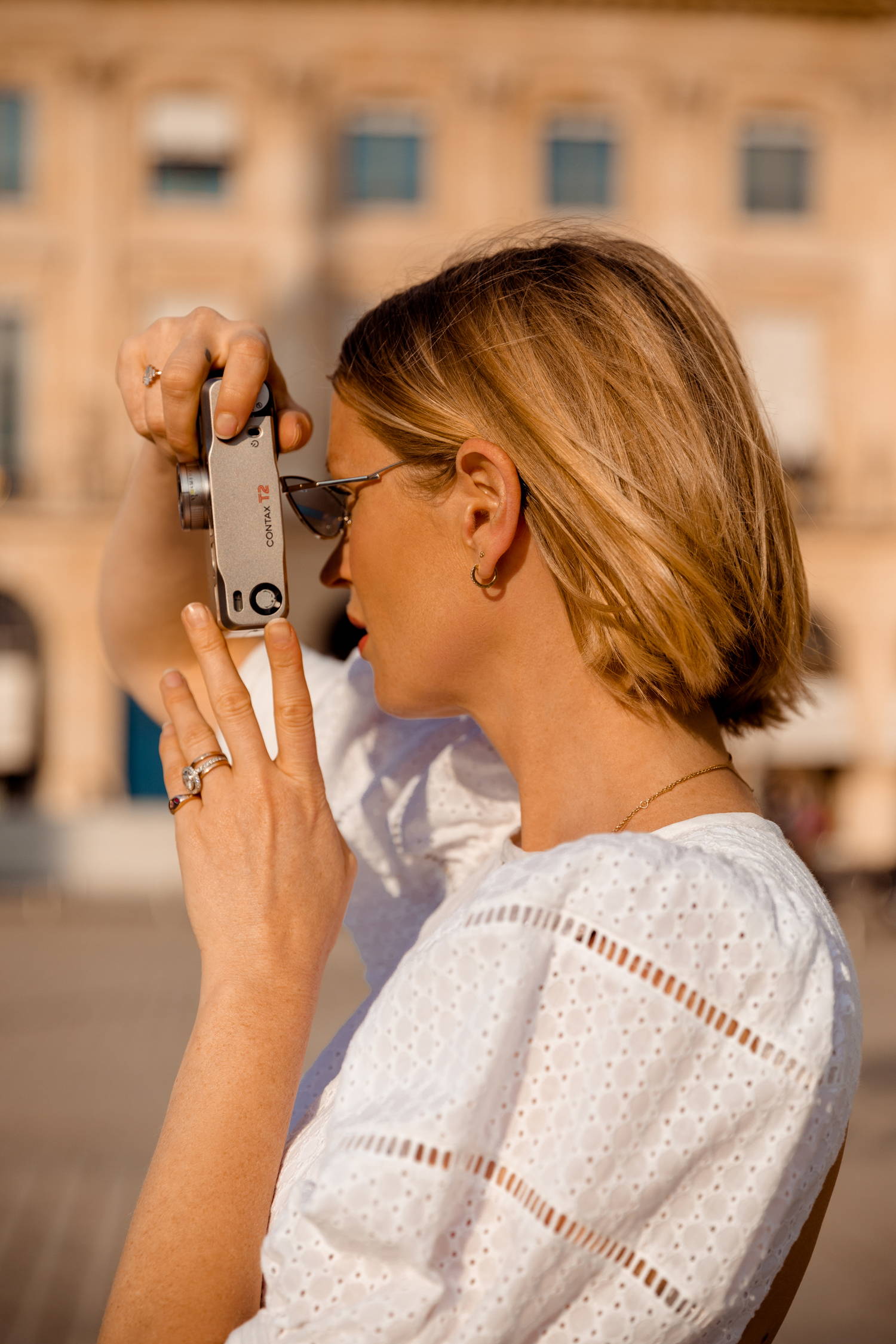 most treasured piece in your wardrobe
There are too many pieces in my wardrobe to pick just one. My first Prada black bag - which my husband bought me as a birthday present seven years ago. A pair of Chanel quilted sandals - which I purchased myself pre my first Paris Fashion Week. A Grew and Co diamond ring, which was on my wishlist for years and I was given for my ten year anniversary. A charm bracelet from when I was a little girl. The list goes on.
5 pieces every stylish woman needs
A classic blazer. Well fitting jeans. Black slingback heels. A LBD. And great shades.
what you never leave the house without
A camera.
your friends describe you as
Honest, sometimes too honest.
something people may not know about you
When I'm not working, I don't often wear makeup and live in jeans or gym gear. I unintentionally live by an all or nothing philosophy and only really realise how extreme my difference styles are when I drop my son at daycare dressed to the nines and have people not recognise me...or even stop and stare.
what's next on the horizon
I'm working on a couple of print projects post PFW, so on top of my normal photography work imagine this will keep me busy well into the new year.
Aje Insider : Liz Sunshine @LizSunshine 
Photographer : Rachel Yabsley @TheFourthCreative
Location : Paris, France
With special thanks to our official partner