The A.A Collective I Artist and Content Creator, Sarah Ellen
AJE ATHLETICA introduces Sarah Ellen to the A.A Collective. Best known for her effortless style and content created through the lens of her artistic sensibilities, Sarah thrives in AJE ATHLETICA activewear sets, a foundational kit for her day-to-day.
Taking solace in both art and connecting with nature, AJE ATHLETICA takes Sarah from her art studio to running with her dog and paddle boarding – a holistic wardrobe for wellness.
AJE ATHLETICA spent a morning with Sarah in Bondi, discussing what her perfect day looks like, her music and podcast recommendations, finding balance and favourite secluded beach destinations, as captured by Holly Gibson.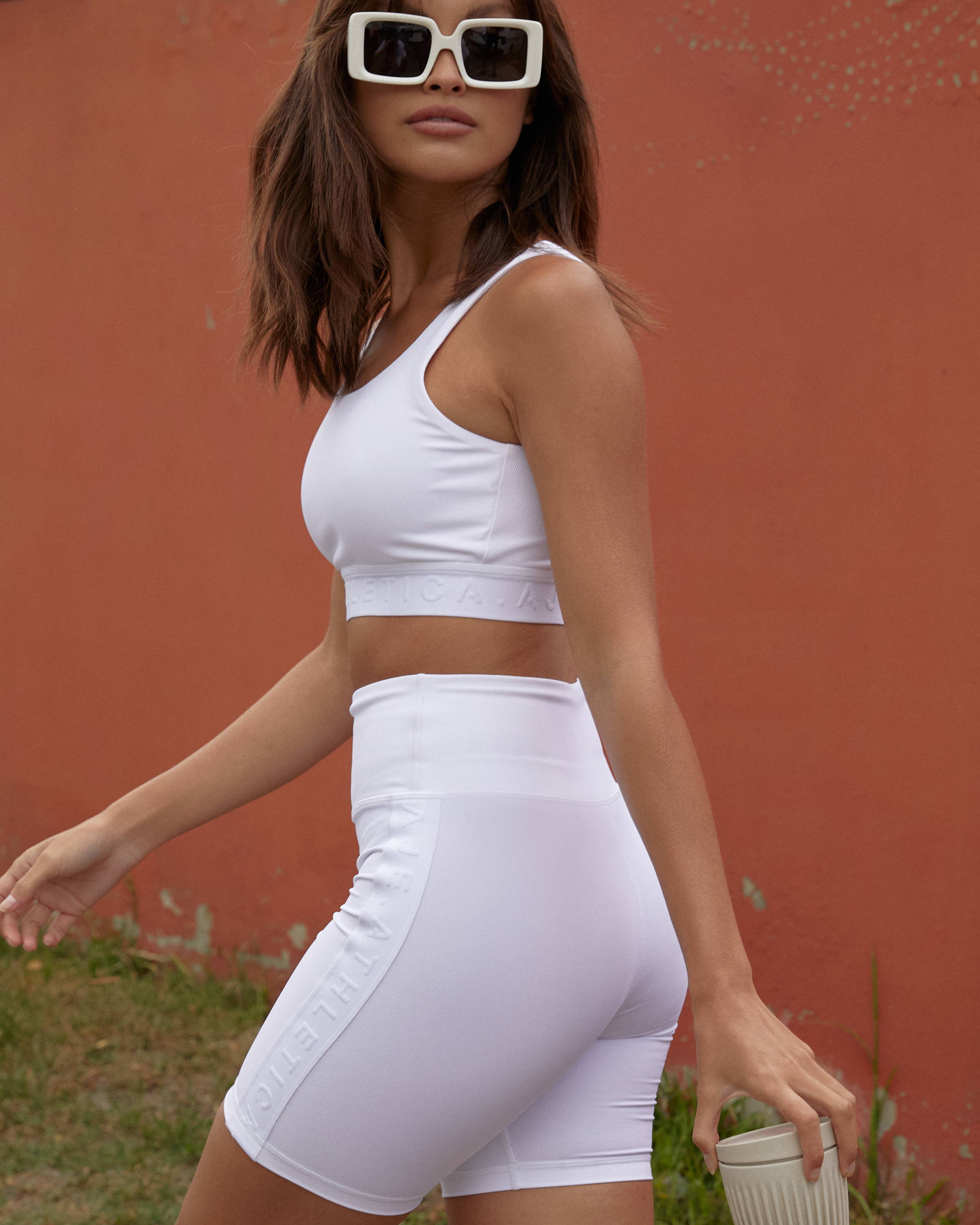 The A.A Collective I Artist and Content Creator, Sarah Ellen
AJE ATHLETICA introduces the A.A Collective; a community at the intersection of fashion, wellness and movement. Where active minds and active lifestyles meet, the A.A Ambassadors are an expansive group of creatives championing a holistic approach to wellbeing; harnessing the regenerative power of creativity in their lifestyles. Creating this strong sense of community, each A.A Ambassador engages with wellness and their surroundings through a sense of belonging via their personal forms of expression and creative fields. Cultural tastemakers, the A.A collective support those around them both physically and mindfully through their creative spirit, the core ethos of the A.A Collective.
Read on to know more about the A.A Ambassadors and move with us in a new era of wellbeing.
Your followers get a small peek into your life through your Instagram, but what does a typical day-in-the-life look like for you?
Every day is different although I usually wake up with the sun glaring through my window and that's usually my cue to go and get a coffee or juice from Clovelly with my dog. I just like staring out into the ocean to start the day, it reminds me of how small I am compared to the rest of the world and the things that I feel like are big problems or issues suddenly get put into a different perspective.
I then usually head into the office which is my art studio and if I'm not modelling or on a creative project, I usually just spend like the entire day painting and listening to podcasts or my music. My playlists range from artists like The Rolling Stones to The XX. I love spending entire days listening to music and painting.
What kind of podcasts do you listen to?
I love true crime, I always have since I was really little, so there's this podcast called 'My Favourite Murder' by two comedians who are girls from LA and they recount the best murder history stories. They're always really interesting and creepy.
What are your favourite pieces from the AJE ATHLETICA Collection?
I love the AJE ATHLETICA black and white crop and short sets. They're pretty, sleek, stylish and comfortable at the same time which is what I'm always after with activewear.
How do you champion a holistic approach to wellness?
I listen to my body and my mind, this year I really took the time to get to know myself well enough to know where my boundaries are in terms of how far I can push myself and when I need to break. I think learning how to listen to yourself is a journey. There's an art to it, which I haven't nailed just yet but it's something that I am trying to get better at. I like going with the flow and listening in to what my body needs.
Do you have any daily rituals that help you live a balanced life?
I think like the older I get, the more I gravitate towards nature as a ritual or remedy for anything. A run on the beach, a dip in the ocean, bird watching; these are all things that ground me and that I find myself doing these almost every single day.
Describe your perfect day…
My perfect day in Sydney would literally just be waking up to no alarm and then probably heading to Bills for breakfast, this is my go-to almost every single day. I'd follow that by taking a dip in the ocean somewhere secluded and maybe going for a run on the beach with my dog, followed by a paddleboard. Then probably just painting in the afternoon into the evening. Nature and simple things make me happiest.  
Do you have an ultimate escapist destination?
I've recently discovered a small beach called Burgess Beach in Forster, that is my absolute dream destination in Australia. It's pretty secluded and not many people know about it. That is the dream destination. I know it sounds so like, "what, but there's so many places overseas that are incredible…" but I'm just such a fan of Australia and I've done a lot of travel and there's honestly nowhere like home.
What kind of exercise excites you most?
Going on a hike, I'm a broken record but again, anything in nature. If I can be working out and discovering new places at the same time, then that's killing two birds with one stone for me and I'm all about that. Paddleboarding is another really fun one that I've just recently started to get into.
Do you have kind of different activewear looks for different activities or do you generally just gravitate to the same pieces?
For sure, I've definitely got my pilates set that I just use for ease which is an AJE ATHLETICA crop and shorts and then I've got one set that I take out walking, then the AJE ATHLETICA long leggings for yoga and pretty much for everything else I just wear a crop and a short set. In the winter I like just like pulling everything together with a big bomber over the top.
What is your ultimate summer beauty hack?
It may sound really cliche but, SPF! In summer, I prefer not to use foundation but instead just wear a super lightweight colour corrector that has SPF in it to let your skin breathe a little.  
Where do you find inspiration for your art?
Colour is something that has always inspired me and I'm a big believer in colour therapy, that colour can really change your mood and evoke different emotions in you. So, when I paint and I think of colour, I love to think of a journey of emotions that I want to take somebody on.
What do you strive to bring your online community?
I just want to give people an insight to my life and what I'm about and if that inspires somebody then that's cool. I'm just out here being myself and people tend to be quite interested in what I do which is really flattering because obviously I'm just a normal person just like anybody else, so if I can inspire somebody then that makes me feel really good inside.
What does being part of the A.A Collective mean to you?
I have always been like a big believer in brands that get around supporting women and with Aje, every time I'm a part of a shoot or I go to Aje events, there's always really inspiring, stylish and hardworking women on the team. It just feels really natural for me to get around supporting AJE ATHLETICA, because I know that with everything they do, Aje are always supporting women. It feels great to be a part of that collective.