The A.A Collective I Founder of Sauce, Zeenat Wilkinson
AJE ATHLETICA introduces Zeenat Wilkinson to the A.A Collective. As the Founder and Creative Director of Sauce, a New Zealand based online platform championing women of colour and under-represented voices, Zeenat is a cultural tastemaker whose creative drive is supported by her daily wellness rituals.
Speaking with the Aje Report, Zeenat shares how new found motherhood has informed her approach to work, why her formative years studying and working overseas in London and Mumbai have shaped her current view of a balanced lifestyle and the drive behind her artistic endeavours.
Read on to learn more about Zeenat's wellness journey; captured in AJE ATHLETICA Collection 002 in New Zealand.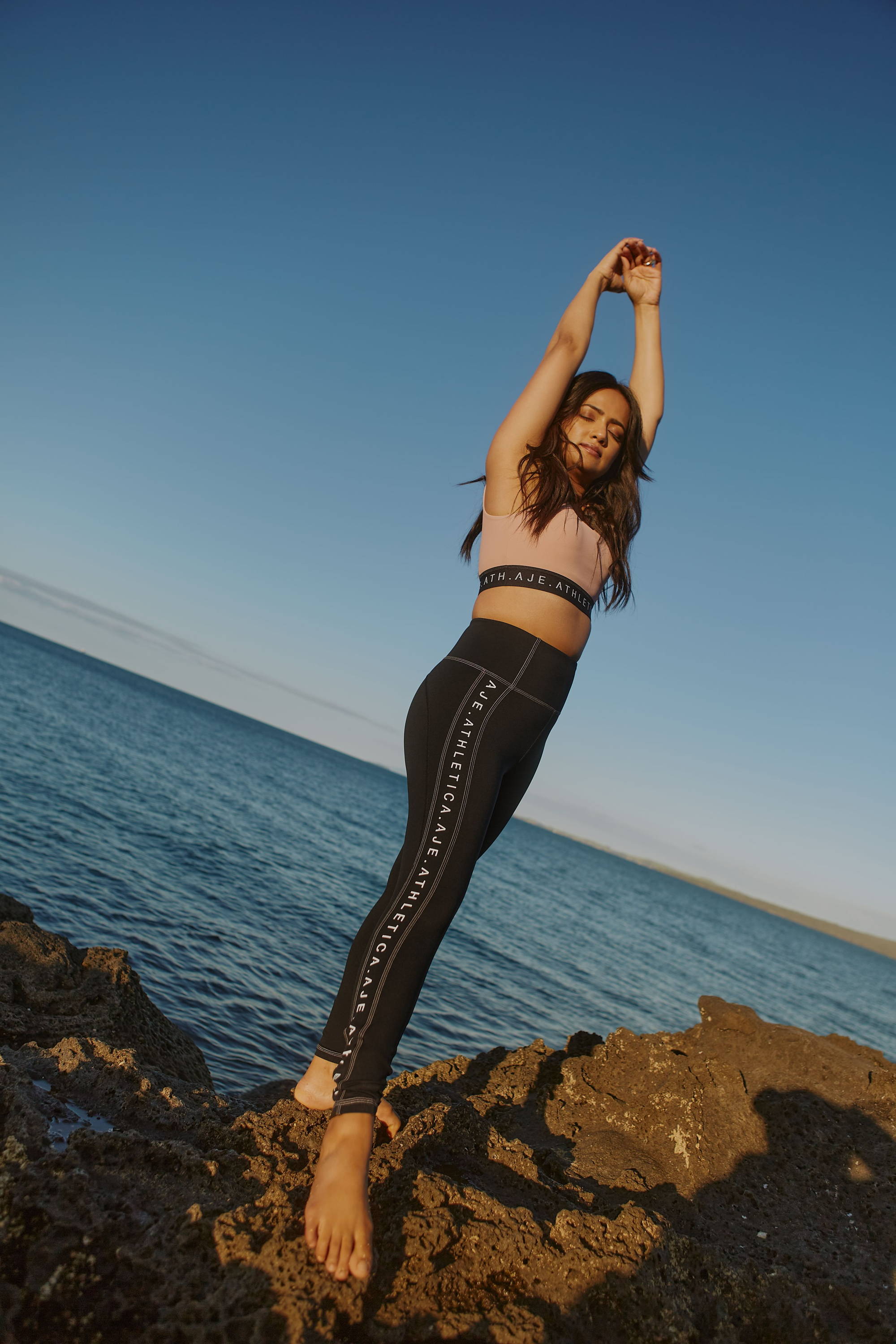 The A.A Collective I Founder of Sauce, Zeenat Wilkinson
AJE ATHLETICA introduces the A.A Collective; a community at the intersection of fashion, wellness and movement. Where active minds and active lifestyles meet, the A.A Ambassadors are an expansive group of creatives championing a holistic approach to wellbeing; harnessing the regenerative power of creativity in their lifestyles. Creating this strong sense of community, each A.A Ambassador engages with wellness and their surroundings through a sense of belonging via their personal forms of expression and creative fields. Cultural tastemakers, the A.A collective support those around them both physically and mindfully through their creative spirit, the core ethos of the A.A Collective.
Read on to know more about the A.A Ambassadors and move with us in a new era of wellbeing.
There's an openness and an engaging vulnerability in your storytelling on your online platform, Sauce; from studying both fashion design and psychology, tell us a little about yourself and your career journey?
I've always been fascinated by the complexities of human nature, but I had a stronger pull towards fashion and design. I pivoted towards fashion after completing my degree in Psychology and started my journey in London's Central Saint Martin's. While I was at CSM I did 3-4 internships in all aspects of the fashion industry and I knew then I loved the creative energy on a set, and styling was something I was intuitively good at. After spending a bit of time working as a fashion stylist and fashion editor in both London and Mumbai, I moved to New Zealand in 2012 and I worked with a handful of local titles for the first few years. Over the years I contributed to the likes of Grazia India, Vogue India, Nylon, Fashion Quarterly, Black Magazine and more, as a stylist and contributing writer.

During that time I had this realisation there was an enormous gap in the market for something real but relaxed, digital but still curated. This led to the inception and launch of Sauce in 2017.
How do you champion a holistic approach to wellness in your day-to-day life?

My holistic approach to wellness has always been really intuitive and I try to ask myself "how can I optimise my day today?" Post baby I struggled a bit with mental health and body image. I realised the way I was going about it wasn't healthy and I needed to put in some work and have some simple routines in place.

I always start my day with a 10-minute yoga stretch I discovered on Youtube, followed by Buddhist chanting. A couple of times a week I do a group zoom Kelly & Co. pilates class, I love her approach and funny anecdotes during class. I also do Pilates via Fluidform at Home on other days when my schedule is a bit all over the place. If all fails, there is always chasing a toddler and a dog at a park. The best exercise!

How do you implement daily rituals to fuel your creative drive?
I recently started journaling and creating weekly mind mapping check-ins and that's been great for creating clarity and redefining my purpose. I signed up to Masterclass a couple of months ago, and I love listening to industry leaders share their journey and learnings. Elaine Welteroth's session on how to harness your values was really insightful. Rituals that are intentional, disciplined and consistent are really important to me. Also, space to do nothing is just as important.

Describe how your formative experiences of working in London, Mumbai and New Zealand have shaped the way you approach a balanced lifestyle, especially in terms of wellness and performance?

I grew up with some of the key principles of Ayurveda and focusing on balance at all times has been something I've had to lean into and come back when things start to spiral. Every element of rest, play, nourishment and downtime is important and when one is out of whack it can throw everything out of place.

What drives your creative and stylistic endeavours? What do you strive to bring to your online community?
Sauce was my response to the fact that women of colour and differently-abled people just weren't reflected in this broader media spectrum at the time in New Zealand. This was the key driving force behind Sauce. But, it has been an evolutionary process in some sense. The organicness from the writers and contributors that are willing to share a piece of themselves is a testament to the success of Sauce. The fact that our wonderful contributors trust us with their story and vulnerability, has allowed me to persevere and ignite a sizeable fire to continue to power forward. I would love to be able to continue to share and celebrate some of incredible voices and conversations into the future. I am also looking forward to getting back into creative storytelling through images and film in the new year.

How has motherhood informed your approach to wellness and work?

I've finally learned to love my motherhood. I didn't have many examples around me so I had to seek them out. I had to imagine what my motherhood journey needs to look like, and then lean into that simple vision and try to avoid overcomplicating things. At the end of the day, all children need is love, nourishment, space and boundaries. So doing less and staying present is very important to me. I don't check my phone for hours when I am with her sometimes.

I worked throughout pregnancy and got back into it in small instalments from when Aaliyah was a couple of months old (when she napped). I was excited to work and stay involved in some of the key aspects of running my business. I'd say the one thing I wish I did sooner was going to bed early. This has been a really important part of postpartum healing and it's allowed me to maximise my work and creative thinking in the mornings and then stay present as a mother, wife, daughter, friend and creative during the rest of the day.

What are your favourite pieces from the new AJE ATHLETICA collection?
The Essential Sports Bra 302 + Essential Mid Length Bike Shorts 601 combination is perfect for workouts on warm days outdoors. The fit is incredible.

What does being a part of the AJE ATHLETICA community mean to you?
I am so excited to be a part of it and celebrate the community!